ABOUT BEERBIKE
Beerbiking offers a unique and unforgettable experience for everyone.
Try our pub on wheels where you can tap your own beer with your friends while listening to your favourite songs. Beerbike is a perfect idea if you want to have a crazy party. Whether it is a stag party, a hen party, a birthday party or a beanfeast we can assure you that you will have a memorable experience.
HOW TO RENT A BEER-BIKE?
Everything you need to know about beerbike rental

1. Choose rental time
Decide when you would like to ride the beer-bike. It is available on weekdays and at the weekend as well, from 10 am to 9 pm.

2. Choose drinks
Our guests can choose between 20 and 30-litre barrels but we have a variety of drinks that can please those who don't like or don't want to drink alcohol. Our menu offers several alcoholic and non-alcoholic beverages.

3. Book our beer bike
When you have chosen the time and the drinks, the last thing to do is to book the date so that we can make sure that you will have a beerbike to use. You can book via e-mail and phone but the simplest way to do it is booking on our website.
How does it work?
The smallest beer bike requires 4 people to ride it while the biggest allows 15 people to sit on it. Of course, it is also possible to ride with bigger groups, in this case, we give you more beerbikes.
You can tap your own beers or our nice hostesses can take care of the drinks and your ride.
In all cases, we provide a sober driver with the beerbikes, who can make sure your vehicle keeps the rules.
THE RIDES INCLUDE
• Beerbike rental: from 4 persons to hundreds (with several beerbikes)
• 20 litre cold beer or your chosen drinks
• Sober driver
• Music: you can bring your own music on usb stick or smartphone
• Special party lighting at night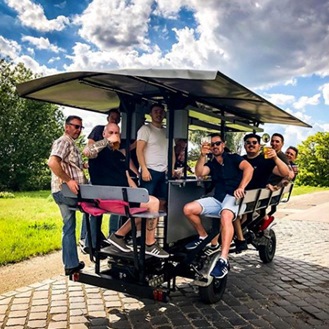 CLASSIC BEERBIKE TOUR
– 1.5 hour beerbike tour
– 30 litre cold beer
– Sober driver
360€ / GROUP
PROSECCO TOUR
– 1.5 hour beerbike tour
– 10 litre prosecco
– Sober driver
420€ / GROUP
WINE TOUR
– 1.5 hour beerbike tour
– 10 litre rosé or white wine + 10 litre sparkling water
– Sober driver
420€ / GROUP
+
EXTRAS
WINE ….. 14€ / BOTTLE
SOFT DRINKS (COCA-COLA, PEACH) ….. 4€ / LITER
MINERAL WATER ….. 2€ / LITER
PROSECCO ….. 14€ / BOTTLE
+10 LITERS OF BEER ….. 45€
WHAT THEY'RE SAYING ABOUT
BRATISLAVA BEERBIKE
"It was a fantastic experience, at the first time, it seemed to be a bit weird but riding it was amazing. It was the best birthday surprise. I am sure we will do this again! Thank you!"
Katka – FACEBOOK
"We celebrated a stag party. There was enough space for all of us, it was comfortable and beerbiking along the banks of the River Danube is a much better idea than sitting somewhere in the city center. This way we had an opportunity to enjoy our beers in a great atmosphere. I recommend Bratislava Beerbike to everyone."
Ondrej Kováč – GOOGLE
"Our beer-bike tour had a fantastic vibe, we passed by many beautiful places. The fresh tap beer is just perfect for this trip, we enjoyed it a lot. I'm sure we'll come again."
Martin – TRIPADVISOR
BOOK NOW!
HOW TO BOOK A BEERBIKE TOUR?
1. Fill in the form and click on the SEND button.
2. In 24 hours, we'll contact you.
3. You can confirm your booking by paying the deposit.
Or you can contact us:
CONTACT
bratislava@kingbike.eu

+36 70 616 4137

+36 70 457 8104
MEETING POINT
BOOKING FORM
BOOK A TOUR NOW